SaveStation Gallery
These community groups, individuals and sponsors have helped to make their communities #cardiacsafe by placing life saving AEDs indoors and outdoors for anyone to use in an emergency.
All

Commemorative

Home

Indoor

Outdoor
Deb & Roger Hennig, owners of Action First Aid, install a SaveStation on their home.
The Town of Bracebridge, with the help of the Schofield Family, placed a year-round SaveStation at Annie Williams Memorial Park.
OC Transpo install 2 SaveStation Towers are at key locations.
Simcoe County District School Board
The school board deployed indoor SaveStation cabinets across their network.
Indoor Workplace – Alectra
Workplaces need AEDs just as much as they require fire extinguishers and other safety equipment.
The Town of Huntsville unveils SaveStation in Civic Square – sponsored by The Sport Lab
SaveStation cabinets provide enhanced visibility and awareness of AEDs.
The SaveStation Modular Cabinet can hold additional first aid supplies such as an EpiPen or Naloxone.
The City of Barrie along with sponsor Georgian International, placed a year-round SaveStation outside Barrie City Hall.
An indoor SaveStation Standard with signage.
Minnesota girl scout raises nearly $20k for SaveStation placements in hometown.
Chris Troughton installs a SaveStation on his home in Ottawa area.
SaveStation installed in Bracebridge's Kelvin Grove Park
Geogian College Placement, sponsored by Jamie Massey of Georgian International
The first SaveStation installed in Canada – at Barrie Waterfront!
Outdoor SaveStation Guardian placed in Vail, Colorado at a ski resort.
The Orange Crush Girls PeeWee Hockey team launched a crowdfunding campaign to help place life-saving AEDs in their communities.
Springwater Township has placed 12 outdoor SaveStations throughout the municipality. Sponsored by local businesses and funds raised via a charity golf tournament.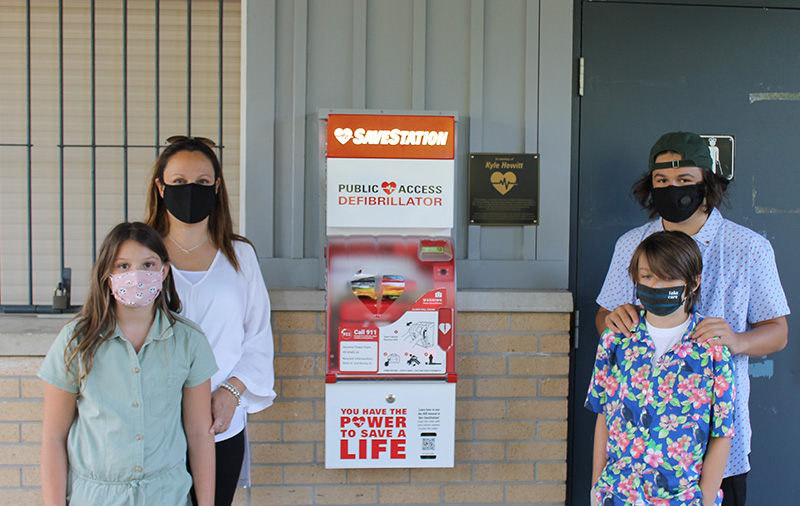 A commemorative placement in the Town of Aurora – fundraised by the community.
SaveStation Tower placed at Chase McEachern Way at Meridian Place, sponsored by the The Kiwanis Club of Barrie
The City of Barrie along with sponsor Jamie Massey place a SaveStation Tower outside Barrie City Hall
Action First Aid has placed an outdoor SaveStation at their warehouse location – the first business park in Ontario.
Paul Dogra, a heart attack survivor himself, installs a SaveStation on his home to provide greater community access to AEDs